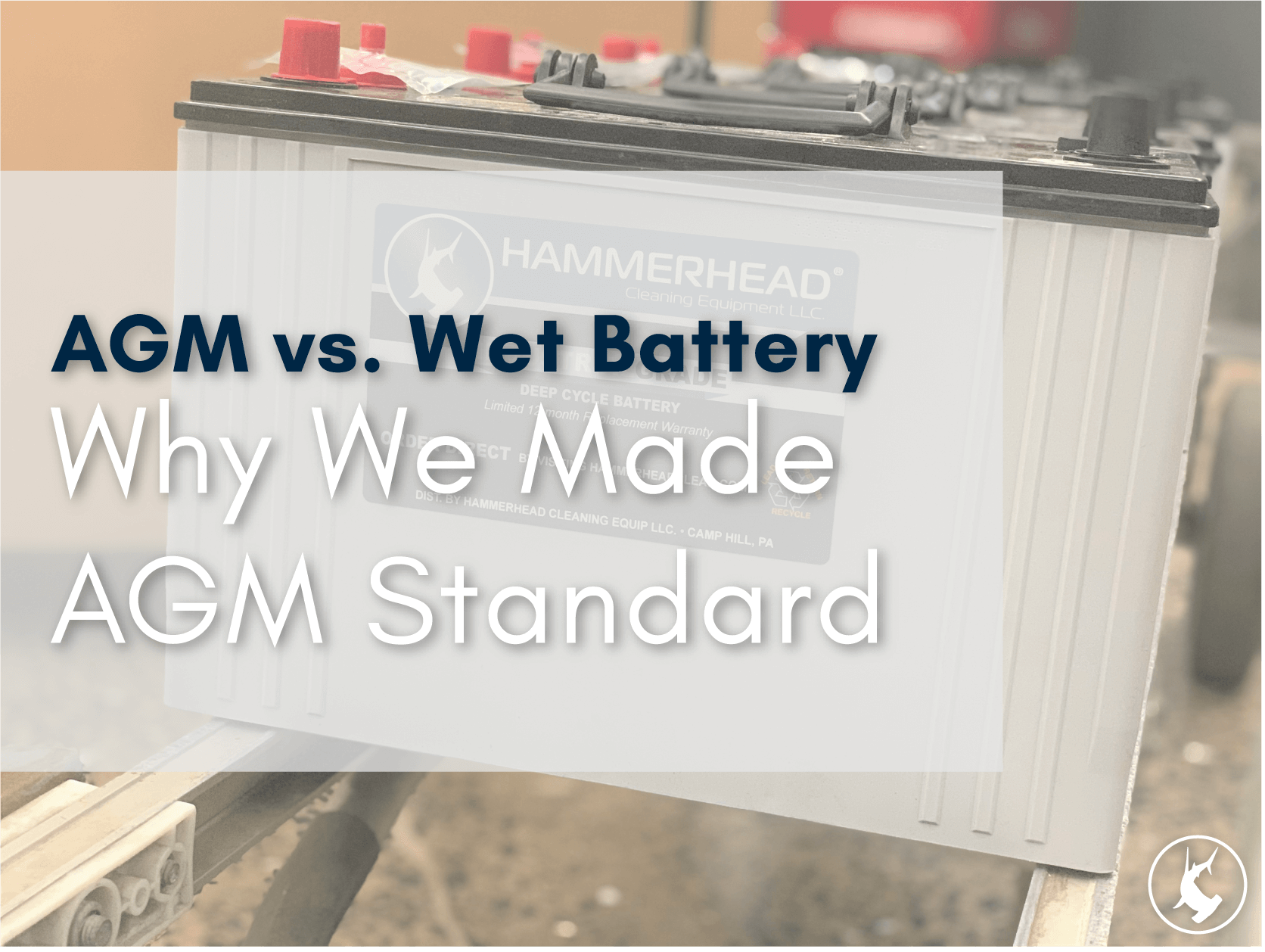 I think most of us have a love-hate relationship with batteries. The freedom of wireless is amazing, but the continual replacement or charging can be frustrating or just inconvenient (ever had your headphones die mid-workout?). My most recent encounter was when my car didn't start when I got back from a trip. Turns out, I left an overhead light on the whole time (*face palm*). Although an easy fix, it was a reminder of how a small detail changes everything. When entering the world of cleaning equipment, I wasn't aware of the fact that there are different types of batteries used in scrubbers and sweepers.
"What do you mean I have to maintain it?"
I'm out on that. Thankfully, my ignorance led to the discussion of what would be best for our Hammerhead® customers. If we really are about being Easy to Use, Efficient and Economical, should we only offer wet batteries? Simply put, no. We decided to stay true to our belief in offering a low maintenance, yet still affordable option and made the AGM (Absorbed Glass Mat) Deep Cycle batteries our standard. Not familiar with batteries and the value-add of using AGMs?
Here's a quick rundown of what you need to know… 
Pros:
1. Non-spillable. 
They are commonly referred to as "sealed" batteries. No concern for tipping over and potentially causing a safety hazard.
2. Maintenance free convenience.
No watering required. Simply install in the machine and charge when required.
3. Meets facilities requirements.
Some facilities may have restrictions on which type of battery can be used: such as hospitals, airports and educational facilities.
4. Installed on their sides.
Although this will not be the case in your scrubber, it is capable of being installed on its side. Again, no spilling.
5. Quick charge.
AGM batteries can charge at a more rapid rate than flooded batteries. Spend more time scrubbing and sweeping and less time waiting for a charge.
Con: more expensive than wet batteries
Yup, that's it. It is not uncommon for AGM batteries to be offered on other equipment brands, but usually as a costly upgrade.
Thank you to
https://www.trojanbattery.com/
for some valuable information on AGM Batteries.
Error: Contact form not found.